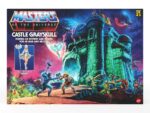 Vorbestellung – Masters of the Universe Origins 2021 Castle Grayskull
Vorbestellung – Masters of the Universe Origins 2021 Castle Grayskull
€89,99 inkl. MwSt.
Enthält 19% MwSt.
Lieferzeit: Dieses Produkt ist vorbestellbar.
Erhältlich ab September 2021 (ÄNDERUNGEN VORBEHALTEN)
Wichtiger Hinweis
Achtung! Nicht für Kinder unter 36 Monaten geeignet. Erstickungsgefahr wegen verschluckbarer Kleinteile.
Verpackungsart: Fensterbox
Vorrätig
Detailreiches Playset aus Mattels "Masters of the Universe Origins"-Reihe. Enthält eine exklusive, 14 cm große Sorceress Actionfigur und weiteres Zubehör.