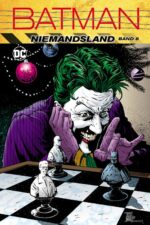 Batman: Niemandsland 8 – lim. Hardcover
Batman: Niemandsland 8 – lim. Hardcover
€37,00 inkl. MwSt.
Enthält 7% Ermäßigter Steuersatz
Lieferzeit: ca. 1-3 Werktage
Erstveröffentlichung:

09.04.2019

Format:

auf 333 Ex. lim. HC

Seiten:

276

Autoren:

Greg Rucka, Dennis O'Neil, Chuck Dixon

Zeichner:

Dale Eaglesham, Damion Scott, Jim Balent, Serigio Cariello

Storys:

Batman 573-574, Detective Comics 740-741, Azrael 60-61, Catwoman 76-77, Legends of the Dark Knight 126, Robin 73, Shadow of the Bat 94
Vorrätig
Der fulminante Abschluss unserer großen Sammelband-Neuausgabe eines der größten Batman-Crossover aller Zeiten!
FINALAUSGABE!