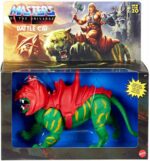 Masters of the Universe Origins Actionfigur 2020 Battle Cat 14 cm
↓ 43%
Masters of the Universe Origins Actionfigur 2020 Battle Cat 14 cm
inkl. MwSt.
Enthält 19% MwSt.
Lieferzeit: ca. 1-3 Werktage
-43%
Offiziell Lizensierte Action-Figur
MOTU Origins Wave 1 von Mattel (2020)
Größe: ca. 14 cm
Lieferung in original Fensterbox
Wichtiger Hinweis
Achtung! Nicht für Kinder unter 36 Monaten geeignet. Erstickungsgefahr wegen verschluckbarer Kleinteile.
Vorrätig
Detailreiche Actionfigur aus Mattels "Masters of the Universe Origins"-Reihe, passend zu den 14 cm großen Actionfiguren der Reihe.